So sah es  vorgestern übermorgen im Sommer, im Winter, in der Woche am Wochende ob es regnet oder schneit heute morgen an der Brücke vor der Seufzerbrücke aus.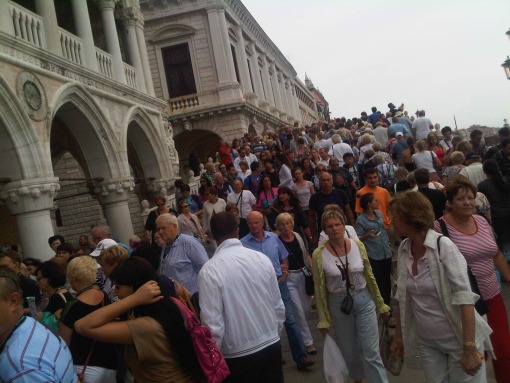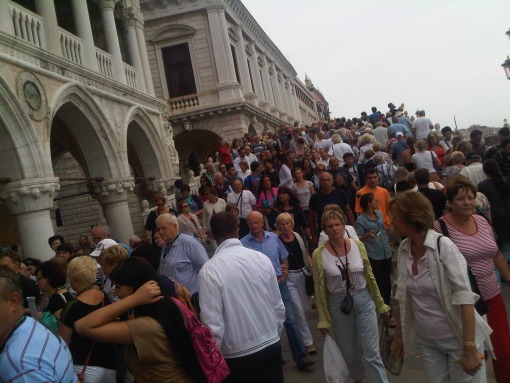 Und das ist ein dpa-Feature über Venedig.
FEATURE: Bane or goldmine? Venetians at odds over tourist numbers By Alvise Armellini, dpa =
Venice, Italy (dpa) – Should Venice be closed off to visitors? Some activists are urging for a radical solution to the problem of tourism overcrowding, yet local authorities and other residents are strongly opposed to the idea.
The debate has been ongoing for years, but gained new prominence after excessive traffic on the Grand Canal – which has risen exponentially along with tourist numbers – was blamed for a fatal crash last month between a gondola and a ferry that left a German man dead.
Italia Nostra, a heritage group, says that the city now has 30 million visitors per year, whereas a 1988 academic study concluded that 7.5 million was the sustainable level, with 12 million the absolute maximum Venice could bear.
"The alleyways are full, nobody can get on the water buses, it is becoming a torture even for tourists," Paolo Lanapoppi, an Italia Nostra campaigner, told dpa.
Another common complaint is that shops catering to the needs of residents – a community that has shrunk from 66,000 in 2001 to just under 58,000 this year – are being replaced by trashy souvenir boutiques.
"The last grocery store closed here in St Mark's," Petra Reski, a German journalist who has lived in Venice since 1991, wrote on her blog in July, complaining that plastic gondolas and fake leather bags were a poor shopping substitute for fresh fruit and vegetables.
"In order to manage the tourism, someone at high level has to admit in public that soon the numbers will need to be limited," Anne Somers Cocks, former head of Venice in Peril, a British charity, wrote in the New York Review of Books in June.
She suggested forcing visitors to pay 30 euros (40 dollars) towards the city's upkeep, and added that they "will have to book in advance, and if Venice is full on one day, they will have to come on another."
Mayor Giorgio Orsoni will hear none of it.
"Venice is not and never will be, for as far as I will be able to muster authority, anything approaching a museum," Orsoni wrote back this month to Somers Cocks, lambasting her suggestion that people should pay to enter like they do at the Museum of Modern Art in New York.
In a separate interview with dpa, the mayor said he was working to make the pressure from tourists more manageable by encouraging them to spread out around the entire city, "so that they don't all cram in St Mark's Square."
In an apparent reference to Somers Cocks, he heaped scorn on "so-called friends of Venice" who, he claimed, "do not really love" the place, viewing it only as "a very decadent city, in the style of Thomas Mann."
Instead, the city needs to dragged kicking and screaming into the 21st century, he suggested. He spoke of making it "more accessible, more simple and more modern" for tourists and residents alike, as well as "more normal."
Long-debated plans to modernize the city include the construction of an underwater underground system, as well as the development of a container hub connected to the port, which is already a major cruise ship terminal.
Venice "needs to become once again a hub of activity, without which its beauty will inevitably fade: the magic of place can flourish around real life, not in its stead," Orsoni wrote in another passage of his reply to Somers Cocks, also published on the New York Review of Books.
With dpa, the mayor highlighted plans to repopulate the city through subsidized housing for university students and by promoting the city as the location for the headquarters of an international organization.
Matteo Secchi, a hotel owner who belongs to the protest group Venessia.com, also opposed the idea of kicking tourists out. He proposes an extra tax on all purchases made in the city.
"Sure, restricted access would save Venice from the invasion," he told dpa. "But we would turn it into Veniceland, a sort of Disneyland where you need a ticket to get in. And how can you stop people when the city is full? With turnstiles at entry points to the city?"
Other Venetians were even more sceptical. Luigi Frizzo, a bookseller whose picturesque store is set in a former boat depot, told dpa that all those who want to constrain tourist numbers were "fools."
"They are our goldmine, we should make the most of them."
P.S.: Ja, unter Schellenhutverkäufern, afrikanischen Taschenhändlern, pakistanischen Gummiklatschdingsbumsverkäufern, venezianischen Bürgermeistern, Ferienwohnungsvermietern, Eisverkäufern, Pizza-zum-Mitnehmen-Verkäufern, Kreuzfahrtbetreibern, chinesischen und italienischen Geldwäschern etc. pp.  ist die Skepsis, die Zahl der Touristen in Venedig zu beschränken (denn darum geht es: Die Zahl zu beschränken und nicht, Venedig zu schließen!), in der Tat weit verbreitet. Aber sie müssen sich keine Sorgen machen. Falls in der venezianischen Stadtverwaltung tatsächlich jemand darüber nachdenken sollte, ob 30 Millionen Touristen angesichts der berechneten Höchstgrenze von 12 Millionen (davon 80% Tagestouristen) für den venezianischen Tourismus vielleicht auch kontraproduktiv sein könnten, wird es garantiert keine Folgen haben. Jedenfalls nicht für die 30 Millionen Touristen.